Sui Ecosystem
Recap 7/21 Sui AMA: Unlocking Opportunities on Sui with Adeniyi Abiodun
This AMA recap covers use cases for apps on Sui, with Adeniyi Abiodun.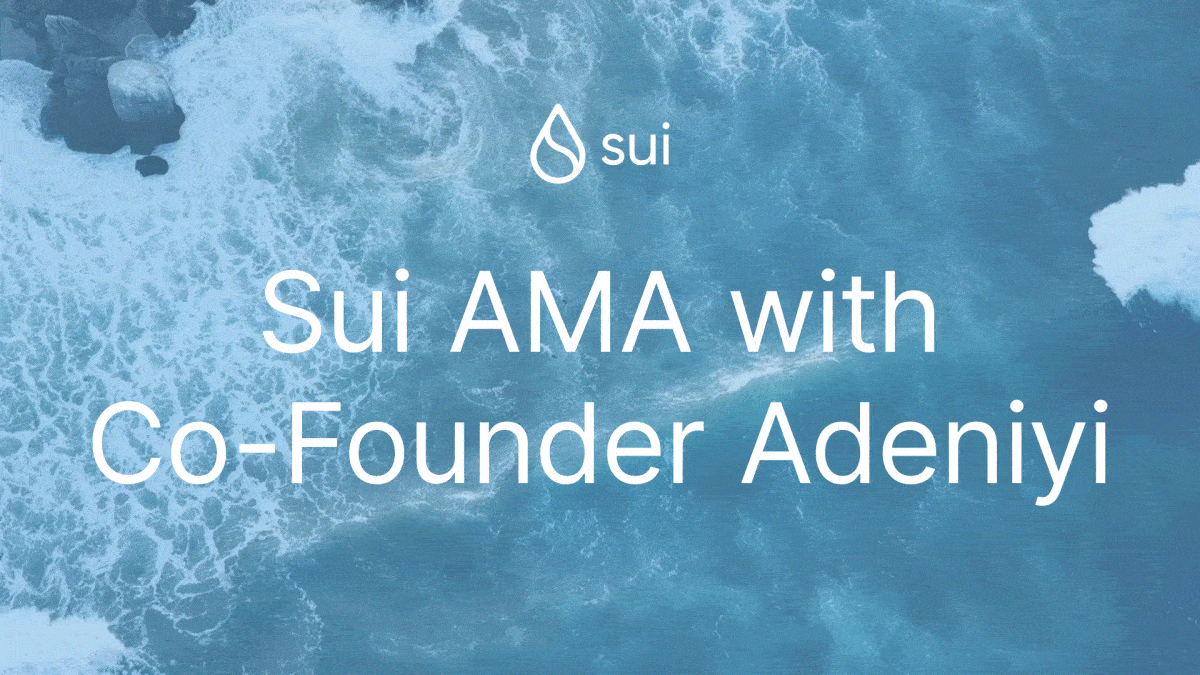 Jen:
Welcome Adeniyi, I'm excited to have you here as our guest speaker!
Adeniyi:
I'm excited to be part of this. My name is Adeniyi Abiodun. I am one of the co-founders of Mysten Labs and the Chief Product Officer of Mysten. A bit of a background, I started my career in the oil and gas industry as a software engineer building remote monitoring systems in countries like Mexico, Saudi Arabia, and the northern part of the Scottish oil fields. Eventually, I got into finance. I started building algorithmic trading software, including margin risk software to monitor the risks of trading portfolios. I found out about Bitcoin in the latter part of 2011. I found it super interesting as a technology and couldn't stop thinking about crypto for a very long time. In 2012, I built my first company in the Bitcoin space that turned into an actual big business in Bitcoin mining. I created something called Bitcoin mining contracts and others started buying contracts so they could start mining.
I built a big data company right after that and after finishing that work, I went off to Oracle to launch enterprise blockchain. I did the same short stint at VMware before having a good conversation with Kevin Weil at Facebook as well as a few other Diem founders at Facebook and got completely enthused by the Libra project. That's how I got involved with the team at Mysten.
.   .   .
Question #1: What are the similarities and differences between Sui and Aptos?
Adeniyi:
The distinct similarities between the Mysten Labs team and Aptos are that the founders came from Facebook, and separately adopted the Move programming language. Beyond that, there are not many similarities in any of the projects between what we're building and what the Aptos team built. We left to start Mysten and build Sui. Sui is all the work we've been doing for the last three to four years of research with Facebook. We're very encouraged by the progress we've made in a very short period of time; we really can't wait to launch it.
.   .   .
Question #2: Can you contextualize Sui relative to Solana?
Adeniyi:
If you look at what has happened to Ethereum or even with Solana today, fees start to get catastrophically high as you scale out. So that fundamentally restricts all blockchain platforms today; we think this is a relative non-starter for us. We've taken a different approach where we set out to build a platform that scales over time as demand increases. Furthermore, what sets Sui apart is that we don't only scale vertically, we scale horizontally. We think that the ideology of web2 should also translate to web3. If I'm a smart contract developer, there should be minimal work I should do to get scalability. I should have relative comfort as I build my application that the economics can remain quite flat. This means today it costs a cent, next week it should cost a cent also, and that goes to the horizontal scalability side. We got an incentive scheme - a tokenomics model that incentivizes validators to add more resources to grow the throughput of the network as demand comes in and still be able to earn a good return in terms of investment in processing transactions.
So that's what sets us apart from Solana, Aptos, and pretty much every other blockchain out there. It's a design philosophy for us where we think if you're going to build applications that cater to billions of people, the fees need to be relatively stable from a user experience point of view. In addition, you need to be able to enable multiple apps. Lower fees also enable a lot of interesting nascent use cases that you just would not try on other blockchains because the costs are just too high.
.   .   .
Question #3: What are we building for the Sui ecosystem?
Adeniyi:
We want to go about this to use cases that actually have the demand. Whereas in traditional blockchains, the block space is a luxury good; it's a very finite resource, In Sui, the block space is not a finite resource, it's a commodity. Gaming is one area we've gone after very heavily. It's a visual representation that people can see and experience. More importantly, there are way more users in gaming. So if you can augment gaming experiences by ownership, and do that at scale, that is something we think is going to catch on from a user perspective. Then separately, we have finance as well. Finance is something we think we could do relatively well because of the Sui single-writer model. You can effectively do transactions that finalize in less than a second, so Sui from our knowledge is the only blockchain that can actually get sub-second latency.
One other thing that Sui can enable that we are really interested in, is a social element. It's great that NFTs are rare, and that brings value but I think there are elements of dimensions that can be added there that can make things more interesting. We've built a set of SDKs that enable you to build more Twitters of the world directly on Sui.
.   .   .
Question #4: How is horizontal scaling possible on Sui?
Adeniyi:
Sui's scaling capability is predominantly from what we get with the Move programming language, and the data model we've had, in addition to our consensus. Everyone talks about consensus as a bottleneck, and networks can't scale a blockchain because of the consensus. We take a different approach, where we have an object-centric data model that allows us to determine the dependencies upfront between different types of transactions. For example, if I am sending you $5, and you are sending someone else your NFT, those two transactions have nothing to do with each other. In other blockchains, these two transactions are built as a dependency ordered in the block. If there's no space in the block, you have to wait until the next block so you can finalize them. That creates this inherent dependency on transactions that have nothing to do with each other, limits the throughput, and increases the latency. It just imposes a lot of restrictions on what you can do from a platform perspective that developers can't do much about.
Sui's object-centric data model is what allows us to scale. Because of that parallel execution, we can add more CPUs and more machines. That's what gives us the performance of other platforms. People also might forget that Move buys us a lot of this flexibility as well. Unlike other smart contract programming languages, Solidity for example, where a contract owns all the state. In Move, the way we've designed is a bit different where everything's an object, and you have decoupled the contract from the state. This gives developers a lot more flexibility. We think a web2 developer coming from a "normal" data programming language should be able to get up and running with Move relatively quickly compared to existing smart contract programming languages.
.   .   .
Question #5: What problems are most important in the current blockchain and why is Sui a solution?
Adeniyi:
There is a myriad of problems that you just have to solve, and taking an architecture that's modular is not enough. Each innovation you bring in needs to be aware of each other. For example with Sui, what we feel we've solved is not making consensus a bottleneck. When we're not localizing things upfront, we can also increase the ability of the network to have on-chain storage.
Unlike other blockchains where storage is very expensive, Sui's storage is relatively cheap. It's not going to be as cheap as storing on, say AWS, because you still have to pay for the replication factor - the factor that multiple validators need to store the same piece of data. Nonetheless, it's certainly going to be closer to the storage cost multiplied by the replication factor than it will be on traditional blockchains. Not only do you get the speed and this wonderful programming language with an object-oriented data model, but also you're getting on-chain storage so you can store an NFT on Sui along with all its attributes.
.   .   .
Question #6: What's Sui's vision for the next five years? And what's Sui's big picture in the crypto industry?
Adeniyi:
In terms of Sui, our goal is essentially to build a scalable Layer 1 so you can have a myriad of applications that can interact with one another in the long term. This creates a world where developers can interact or compose worlds together, where I can have financial modules, social merging with gaming, and all forms of other things as well. We think scaling out Sui is going to make it possible to build your metaverse in the future where your assets or assets that are owned by people all have this element to interoperate with one another. Our intuition is that if we can make a blockchain that makes it easy for builders to bring in users at very low friction and low cost, then we can bring billions of people to the ecosystem every cycle without having them go through the hoops of figuring out crypto.
.   .   .
Question #7: How has it been to go from a huge company like Meta, where you are under the umbrella of a multi-billion dollar organization, and going into basically your own startup where you're building things from scratch? How has that been?
Adeniyi:
It's not my first rodeo and probably the third startup I've been part of. I think that the big contrast between a massive company like Facebook and a small company like Mysten is just in the speed to get alignment on particular issues. With massive corporations, there are the wide company goals that you have, there's timelining around that, and making sure it's well aligned with the company's overall mission. There's a nimbleness that comes with having a small team and being able to align on a very small set of mission statements very quickly. We can get five people on the call and make a very big decision in Mysten and then it's done, we all buy in, and then we move forward.
We're trying to replicate some of the best moments of communication that we had on Facebook, but our company is not just Facebook. We have people from Google and people from other forms of startups all across the board. So we're migrating a lot of cultures into the company and building that into the company as we speak.
Koh:
Yeah, I left Google in 2015 but this is not my first startup rodeo. I think I'm in double digits land for startups mostly because I've done a lot of smaller businesses before Mysten. Regardless, I would definitely say there's a different energy. Magic does happen when you have the right people in the room. That's why everyone tells you when you're doing a startup, it's really the people that you're investing in because that's what's the most important.
.   .   .
Question #8: What are some of the failings that you faced at Diem? And what are the learnings from those experiences that you're not repeating at Sui?
Adeniyi:
I appreciate the leadership, being as bold as to try and do something so courageous. I think the biggest takeaway is that innovation is great but if you try to do a lot at the same time, sometimes the value proposition can get a bit intertwined with how you're perceived publicly as a company. When I say too much innovation at the same time, you're launching a global payments rail in addition to launching a global currency that is almost like a basket of currencies.
At Mysten, we are not launching a currency, we're launching a platform. We're simply building a platform for developers who can start to do all the cool stuff that crypto has promised them, but it hasn't been delivered. I always make the argument that capital has corrupted a lot of artistry in the crypto space.
.   .   .
Question #9: How did you get into product management?
Adeniyi:
The way I got into product was that I started as a software engineer building services and software in the banking industry, also oil and gas. I found out about Bitcoin and I started building a platform that would enable people to mine Bitcoin easily and earn rewards without having to think about the complexities of setting up hardware. That's really what I was doing that transcended to me being the CEO of my own company. When I left being a founder of a company, I naturally was trying to figure out what was next and I was called in to help launch a platform at Oracle for blockchain. I was there as an architect, but also as a pseudo-product manager. Separately, the same thing happened when I went to VMware. I led the product team that was launching the blockchain platform.
.   .   .
Question #10: What were you and the team up to on your recent trip to Switzerland?
Adeniyi:
We're always planning for what's next and what's tomorrow. We're thinking about what we should be doing to make Sui the biggest network possible, and then bringing in the next generation of applications that are going to change the foundations of the internet. We'll share more when the time comes.
.   .   .
Question #11: When will there be a grant program for Sui projects? Or, how would you structure such a program?
Adeniyi:
We want to get the grant program off the ground and announce it publicly soon.
If you're in the Discord group, drop any suggestions because we are actually monitoring these channels. We'd love to hear your ideas, but we are really interested in people who want to do something different from what others have done. Sui is unique. It gives creators and developers new forms of extra stability that just wasn't afforded to them before so we want to back founders and developers who want to build tools, apps, and an ecosystem around new products that exemplify what Sui does better than anywhere else.
Koh:
We are focusing a lot on quality because for us, we believe that the technology that we're building will serve as a foundation for builders to build their businesses and visions for years to come. I'm interested in working with teams that have very long-term visions that are thinking about the problems that blockchain technology is very uniquely positioned to solve, and how Sui, as our platform, helps you realize that vision. We want people coming into web3, and I think a lot of that has to do with accessibility.
A big category that I think has been largely ignored is the developer tools category because if you think about the tools that are available in web3. It's pretty comical how there are really not many tools available. We're looking forward to seeing the creativity of the community that's going to help us when our Testnet does come live soon. So stay tuned!
.   .   .
Question #12: We have an anticipation that Sui is going to become a very popular network. How will the network itself and wallet be ready to handle the influx of users that we're anticipating?
Adeniyi:
We announced a wallet recently, it's going to be an even better user experience in the next couple of weeks and I think maybe we should have Bauer do an AMA on our wallet at some point. But to touch on that, the whole point of going through our Devnet, Testnet, and the incentivized test is to iron out bugs, or at least even solve problems around storage, speed, and everything else. It's a real battle-tested platform that has people beating the hell out of it through the process of figuring out bugs. Testing out the capacity of the platform, making sure it can handle the load, and making sure the storage and everything else scales will be all part of the incentivized Testnet. There'll be multiple ways for these internal devices to make sure that each one of them targets particular characteristics of the Sui platform and to make sure that by the time we go to Mainnet, it's been battle-tested. People will be able to build the apps that we've promised that they can build and we feel confident about that. The community is engaged with a team who's really passionate about building really scalable and well-engineered platforms for the masses. So that is something we want to do with the community, and we think all of you are going to be really useful in helping us validate some of the claims that we've made, and making sure that the Sui platform can be something for everybody.
Koh:
If you have an interesting project, definitely feel free to give a shout-out on our Discord channels, and we'll take a look. We're excited to see what people are building.
Adeniyi:
I'm super interested in talking to people who are building apps in a social space. I think that's one area I feel it's going to be of massive growth and is going to augment the experiences around everything else that we do in web3. So definitely hit me up on Twitter, and hit me up on LinkedIn. If you have interesting ideas on social and on how we can help and support you. I'm humbled to see how we can grow the use, and I think that's an area that's going to bring many users to the crypto space to a large extent. Keep looking out for what we're doing on the product side. Our goal is to have the best experience across the board. If you have any comments on how we can do things better, always look out for improvements.