Sui Ecosystem
App Showcase: Suiet Wallet
The Suiet Wallet, a secure repository for users' Sui Coins and NFTs, distinguishes itself through a beginner-friendly interface and versatility.

The Sui Foundation highlights various apps from the Sui network on its blog. These articles are meant to demonstrate the capabilities of the Sui network and do not represent an endorsement or promotion by the Sui Foundation.
The Suiet Wallet, a secure repository for users' Sui Coins and NFTs, distinguishes itself through a beginner-friendly interface and versatility. It facilitates new wallet creation and serves as a one-stop shop for Sui platform assets.
Wallets are the primary and often the first way that users interact with the Sui platform, making ease-of-use essential when bringing newcomers onboard. Suiet installs as a Chrome extension and presents a straightforward homescreen with buttons for Airdrop, Receive, and Send as well as a large account balance display. That simple initial interface, however, doesn't get in the way of accessing deeper features, such as switching wallets, accessing NFTs, and customizing wallet names and icons.
The team behind Suiet wallet adhered to principles of privacy and transparency during its development. To that end, the wallet does not track users in any way, and launched as an open source project, with the code available on GitHub.
According to the team, "Sui unlocks new potential for crypto wallet designs. With the Sui network's algorithm and supported technologies such as multisig, we are exploring a new crypto wallet design. Our goal is to provide users with a wallet as convenient as a web2 account, but as safe as a hardware wallet."
Key Features
Eliminating login friction, the developers enabled biometric authentication on Suiet. The wallet accepts fingerprint recognition as an alternative to passwords when used with a computer featuring this capability. The developers point out that Suiet makes use of private key security, with a "well-designed encryption solution on users' local storage, which does not involve any server-side secret key operation."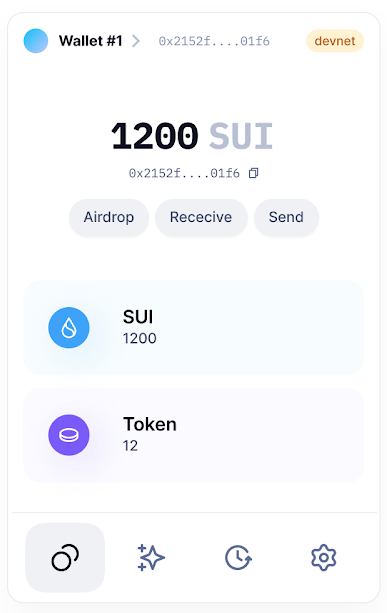 Suiet's Airdrop button is particularly convenient, as instead of making a request for tokens from the faucet bot on Discord, it handles the request in an opaque manner through the wallet interface. This function relates specifically to Sui Devnet, of course, as airdrops and faucet requests are not expected to be supported on Sui Mainnet when it launches. Suiet supports connectivity to different networks, so users can easily switch between Devnet and Mainnet.
Suiet also includes built-in NFT management. Using a menu bar at the bottom of the interface, users can click into an NFT screen, showing which NFTs they currently own. Clicking an NFT in this screen shows details about the object and gives a link to open a web-based explorer screen. Users can also mint special Suiet NFTs simply by clicking a button on the NFT management screen.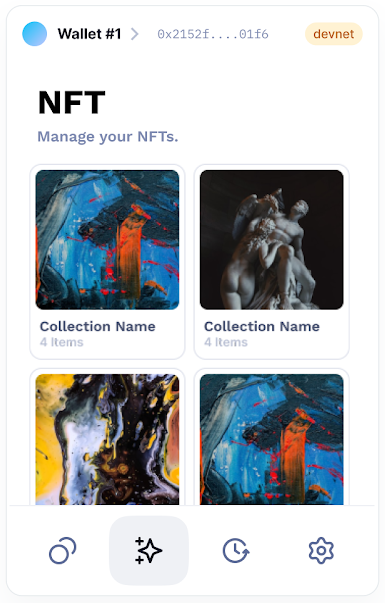 Suiet is "the first wallet supporting a multi-account wallet and biometric authorization methods on the Sui ecosystem," according to the developers, meaning that it lets users easily switch between wallets, import external wallets, and create new wallets. Although hosting multiple wallets could become confusing, Suiet lets users give wallets custom names and colors.
Future Development
Suiet's builders have a few ideas to further develop the wallet. They are considering a new architecture integrating an index service that will update the wallet more quickly. Users will see their balances change almost instantly as they conduct transactions on the Sui network. The team also intends to develop Suiet for mobile.
To find out more about Suiet Wallet, check out the Suiet website. Developers wanting to integrate the wallet or develop on it should look at the Suiet GitHub and join the Suiet Chat Telegram group.