Events
Highlights from the Denver Sui Builder House
Keynotes on Sui's founding and the journey to Mainnet, plus many informative presentations, filled the three days of the Denver Sui Builder House.

The Sui Foundation's Denver Builder House, which ran from February 28 to March 2, gave builders on Sui the opportunity to learn, present, and network. Highlights included keynotes by Adeniyi Abiodun, Mysten Labs Chief Product Officer, and Kostas Chalkias, Mysten Labs Chief Cryptographer, along with presentations from the community covering topics such as gasless transactions, security, name services, the future of gaming, and NFTs.
Builders learned the latest on the Sui blockchain, including the roadmap to Mainnet and new and upcoming functionality. Participants showed off both products and technologies, all of which will help the network grow.
And the Sui Foundation, in conjunction with security firm OtterSec, hosted SuiTF, a capture the flag-style coding tournament, with prizes among the winners totaling $35,000.
Thanks to Jump Crypto for sponsoring Sui's Builder Houses in 2023, and all who joined us, both as speakers and participants. Among the many insightful presentations given during the Sui Builder House, following are a few highlights.
The State of Sui
Adeniyi's keynote covered the road to Mainnet, a topic of primary importance to Sui builders. He discussed the milestones achieved by Test Wave 1, which focused on external validators and nodes, and Testnet Wave 2, which tested tokenomics and transaction functions. Each of these waves allowed the developer team to refine particular aspects of the Sui network, readying it for widespread public use.
Confirming there will not be a Testnet Wave 4, Adeniyi said Wave 3 will launch in April and become a permanent Testnet. This Testnet will focus on builders, giving them an environment to try out their apps prior to public release. Although no date has been confirmed for Mainnet launch, the permanent Testnet will live alongside it.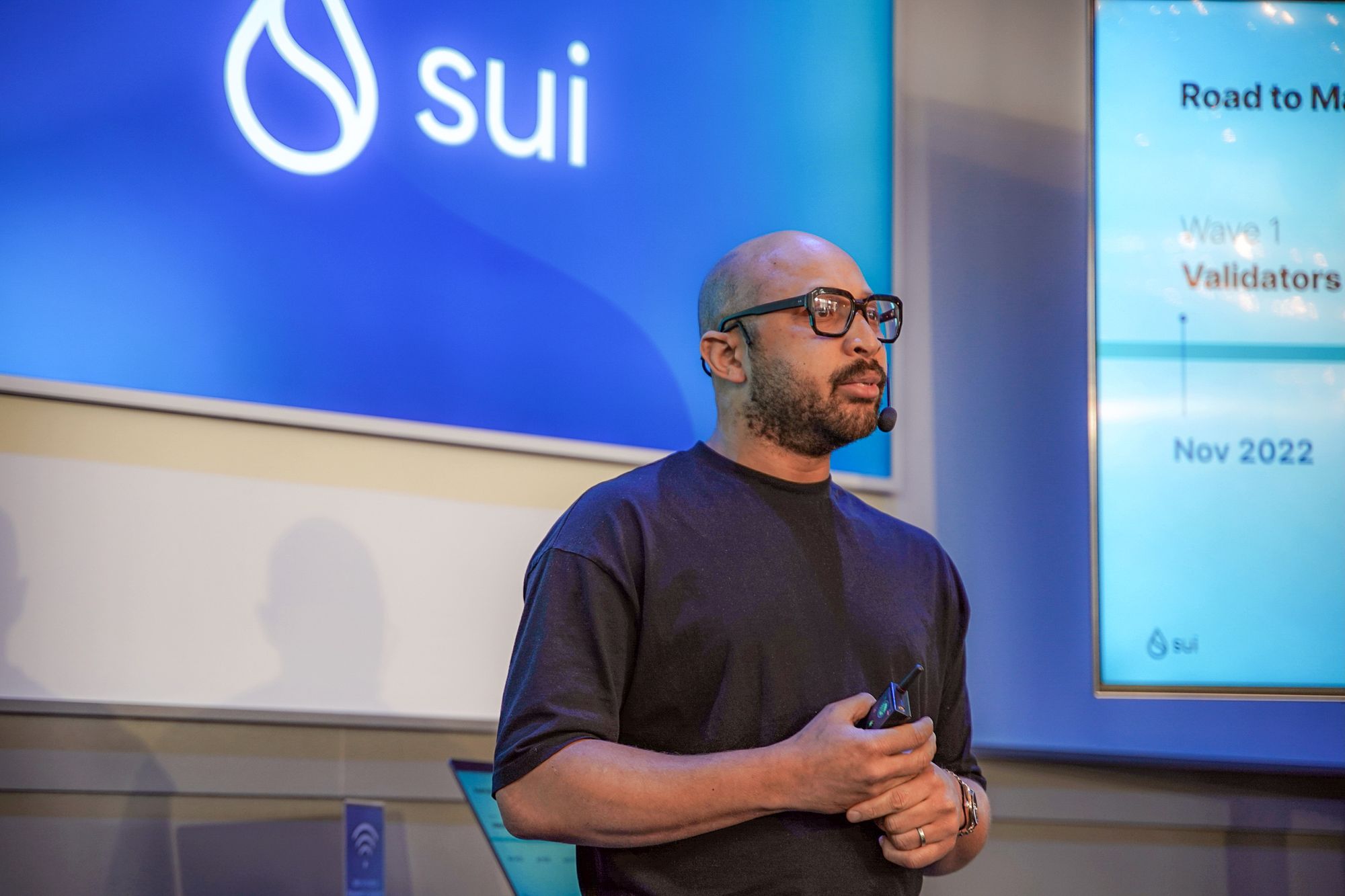 As one more thing, Adeniyi announced DeepBook, an order book built for Sui by MovEX, which will be funded by the Sui Foundation. DeepBook will provide a source for aggregated liquidity, allowing DeFi and other app builders to easily connect to a token exchange layer.
Kostas gave a big picture look at Sui during his keynote, from its beginnings to its current structure. Talking about the core team, he described working with Adeniyi, Evan Cheng, Sam Blackshear, and George Danezis on Libra for Meta. When they formed Mysten Labs, they assessed what they had already built and worked out how they could make it better, beginning their initial work on Sui.
Presenting Sui's core elements, Kostas described scalability through parallel and consensus execution, concepts of ownership and security in the Move programming language on Sui, fundamentals of tokenomics, and his own speciality, cryptography. Sui was designed for cryptographic agility, meaning builders can plug in their preferred or the latest cryptographic algorithms. This capability lets Sui keep up with the state of the art in cryptography.
Sui Fundamentals
Name services make up one of the most important pieces of the network puzzle, allowing general users to easily find resources. Sean Mika of SuiNS, a native Sui name service, presented the top level domains .move and .sui, explaining how SuiNS routes traffic. SuiNS offers domain services and already boasts over 446,000 registrations. Sui builders can register their domain and connect their apps, allowing easy discovery.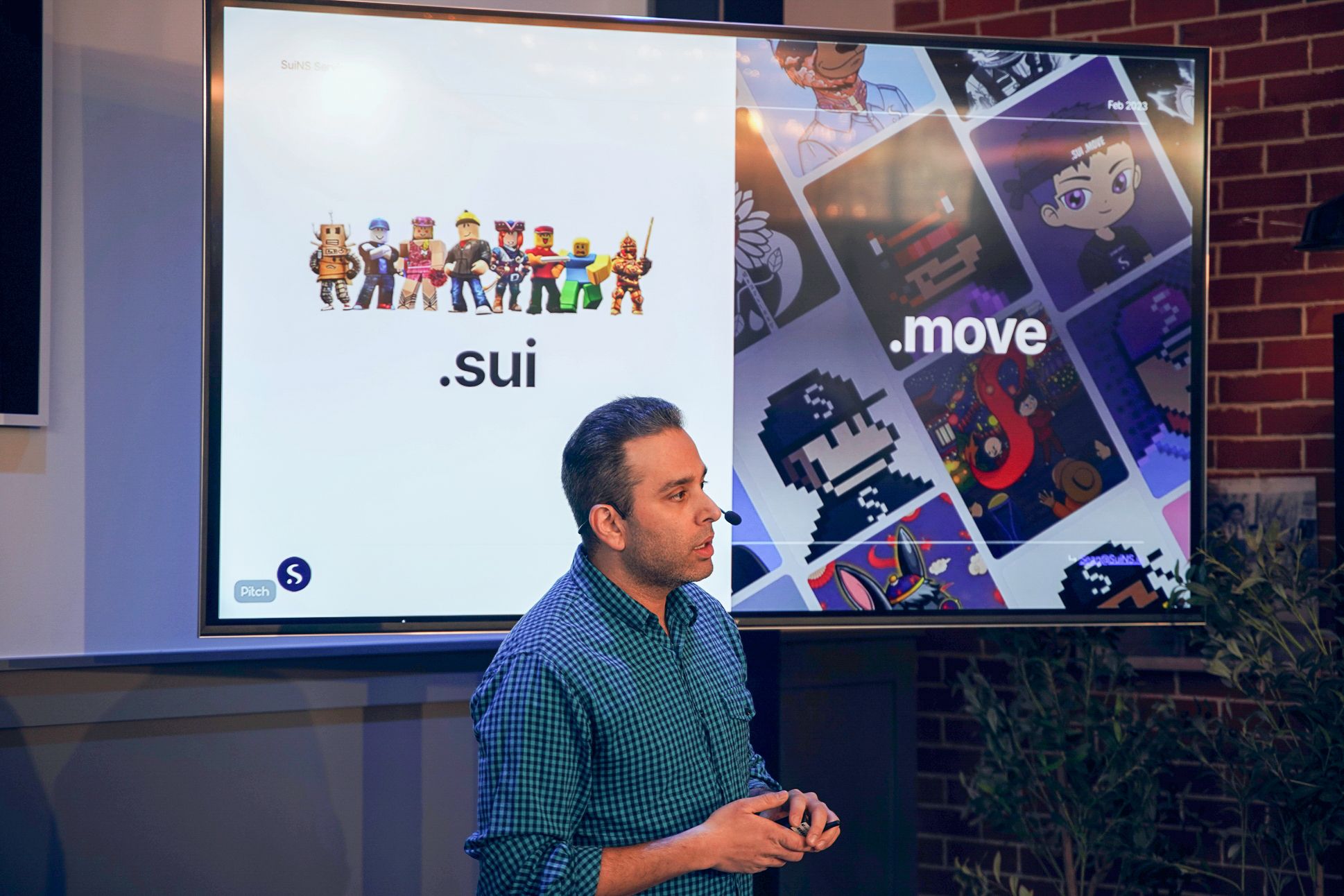 Networked computing in general opened up a whole new class of criminal behavior, a reality web3 builders need to confront at the outset. Quantitative Researcher Lucas Baker of Jump Crypto, a research and investment firm, discussed the types of hackers and the threats they represent. Pointing out that losses due to web3 hacks already amount to $6.1 billion, he defined how white hats, gray hats, and black hats operate, focusing on behaviors and incentives. An essential understanding from his presentation is that all hacker types appreciate reward, and that risk tolerance rises on the scale from white hat to black hat.
Although builders will find great documentation around security and cryptography, understanding hacker behavior in this manner can help with bug bounty program design and response to hacks.
Building on Sui
As a relatively young language, Move on Sui offers plenty of room for builder creativity. Move developer Paul Fidika demonstrated this with a presentation on Capsules, a generic container for arbitrary resources on Sui that he created. Sui's asset types allow a great range of use cases, including game items, tickets, and market positions, and Capsules provide metadata to any app on the network. Leveraging dynamic fields on Sui makes this containerization possible.

On a similar topic, OriginByte's Hisham Khan gave a presentation on NFT standards. As a particular need, he discussed how standards can help NFT creators collect royalties. The design pattern he presented includes settings both at an NFT collection level and an individual NFT level. The collection settings include royalty, composability rules, and an allowlist. This pattern gives creators a permissioning system, collection management, and distribution management for their NFTs. Importantly for creators, the allowlist helps prevent bypassing of royalties. Hisham credited Sui's scalability with enabling this pattern.
A hot topic among builders, and a key to mainstream adoption of web3, centers around gas fees. James Chen and Nikhil Chari of Shinami delivered a talk and live demo of a gasless interface using their new API. The team announced the launch of Sui Gas Station, which will enable frictionless cryptocurrency experiences for the next wave of users. Their API abstracts away the complexities of gas by allowing builders to sponsor transactions.
With the development of the Gas Station API, Sui developers can build frictionless experiences and new business models. This API will enable better games, wallets, and other apps on the Sui network. Builders interested in trying out Shinami's Gas Station can sign up using the referral code SuiDenver.

Wallet apps are fundamental to web3 networks, and many examples exist on Sui. However, as Nadia Eldeib of Ethos pointed out, most rely on the model set by MetaMask, a popular Ethereum wallet launched in 2016. Nadia presented Ethos Wallet, designed as a next generation wallet for Sui. Beyond simply showing a user's balance, Ethos Wallet serves as an entire platform that includes apps and NFTs. For example, its explorer links to Mysten Labs' Capys project, and Ethos created Capy AI, which takes users' Capys and adds an AI-generated background. Over 81,000 Capys benefited from Capy AI. The innovative thinking that went into Ethos Wallet complements Sui's own next generation nature.
SuiTF Competition
The Sui Denver Builder House featured a little friendly competition in the form of a capture the flag-style competition, letting builders demonstrate their coding kung fu. Players had to complete a number of increasingly difficult challenges designed in partnership with OtterSec, a company devoted to conducting security audits of blockchains and apps. As an example of the challenges, the second gave players an address on Sui from which they had to find a path to a view over Denver. The final, and most difficult, challenge involved searching through Sui Devnet to find an object representing Sui's founders.
Let's congratulate Kenny Abitbol, Senior Associate at Coinbase, for his first place win of the Sui Denver Builder House Challenge!
Look for exciting challenges at our next Builder Houses, occurring throughout the year!
Join Us at the Vietnam Builder House
Learn more about Sui and network with its founders and other developers! The Sui Foundation is hosting our next Builder House in Vietnam, from March 18 to 19, 2023. Expect educational presentations, a challenge featuring prizes, and other fun activities.
Register today before we hit capacity!

We would like to give special thanks to Jump Crypto, a global sponsor of Sui's Builder Houses in 2023. Jump Crypto combines expertise in engineering, trading, and investing to realize the promise of a web3 future.