Sui Ecosystem
Games on Sui Handle Millions of Transactions During Quest 3
Sui's scalability and resilience delivers seamless gameplay under heavy demand.

Sui's inherent scalability and low, predictable gas fees conceptually make it a perfect platform for Web3 gaming. However, the conclusion of Quest 3 proved beyond a doubt Sui's exceptional capabilities as participating games delivered millions of transactions.
Quest 3 showcased gaming projects, giving builders an opportunity to introduce their exciting creations to potential players. These players were incentivized to engage with nine projects over a month, ending on November 9, 2023. Quest 1, smaller in scope, also focused on games, while Quest 2 demonstrated DeFi apps on Sui.
Individual projects, such as Panzerdogs and Arcade Champion, reported player adoption running in the hundreds of thousands, with millions of in-game interactions in some cases. Not only did Sui support this demand with 100 percent uptime, but gas fees remained steady, with no spikes caused by high demand.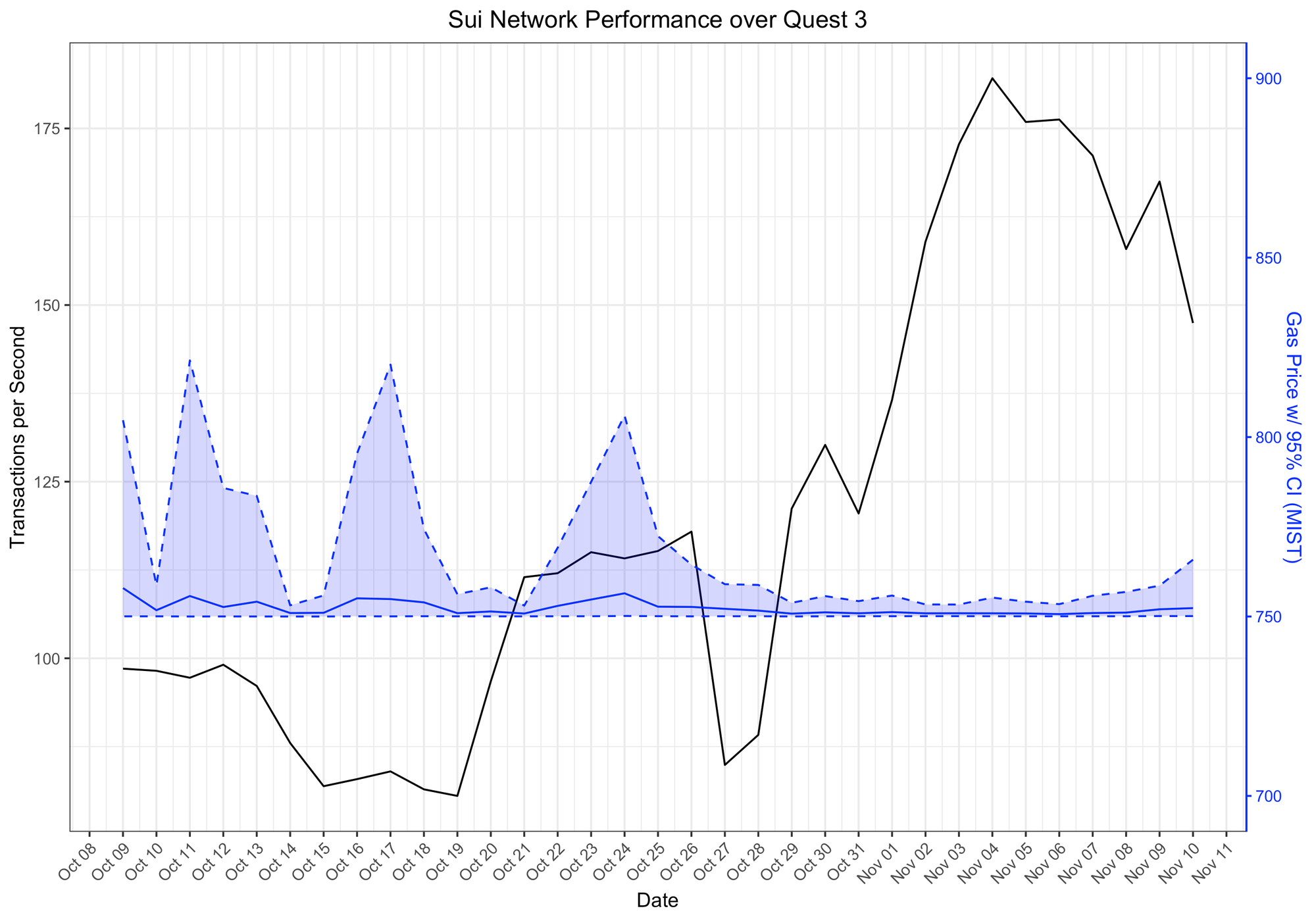 During Quest 3, gas prices on Sui maintained a range from approximately 750 to 825 MIST, a denomination equal to a billionth of a SUI. The network maintained this range despite an increase in network traffic, ensuring that apps didn't cost more to use as demand rose.
Individual game results
Arcade Champion, an arcade-style battle game built by Bluejay Games, gained over 248,000 players during Quest 3. The game features AI-controlled characters that battle and evolve for their player-owners. Leveraging Sui's object-focused data structure, each character is actually an NFT hosted on the network.
Players engaged in over 7.3 million minigames, which include both solo missions and head-to-head duels, with players leveling their characters 30,612,753 times over the course of Quest 3. As a testament to Sui's resilience, Arcade Champion recorded over 1 million daily transactions, with a peak of 1.9 million.
Panzerdogs, by Lucky Kat Studios, showed equally impressive numbers during Quest 3. It saw over 300,000 new accounts and 1.5 million matches between players over 30 days. "Quest 3 provided us with easy to integrate systems, valuable insights on how our game can handle a mass of players at one time, and introduced Panzerdogs to over 300,000 new players," said a representative from Lucky Kat. Boasting over 30,000 daily average users, Panzerdogs and Sui delivered a satisfying experience for gamers.
The simple but engaging DeSui Coinflip showed strong results as well. The game features a coin flip wager, with a fifty-fifty chance of winning. During Quest 3, players made over 1.5 million coin flips, each representing an onchain transaction. Of its participation in the Quest, DeSui Coinflip's builders said, "We wanted to show we could deliver at 100 percent uptime and did so during Quest 3." The game also saw 320,000 SUI wagered over 30 days.
Taking a different approach, Ethos used Quest 3 to introduce The Collection to artists and users. The Collection serves as a gallery for AI-generated NFT art on Sui, letting artists mint their works while users vote for their favorites with SUI. "With The Collection, we are building a global platform for creators to compete, vote, and own a piece of AI-generated digital art history," said an Ethos representative.
During Quest 3, The Collection saw the creation of 53,559 unique wallets, 42,930 artworks created, and 19,068 art entries submitted. Users enjoyed the artworks displayed, pledging 256,933.75 SUI overall.
Similar to The Collection, Poetry in Motion focuses on creativity. Poets express feelings and ideas through a drag-and-drop interface that lets them select and arrange words. "We built Poetry in Motion using programmable transaction blocks, nested NFTs, and kiosks, and it was impressive to see them all in action," said a representative from the build team. Over the duration of the Quest, 28,140 authors created 33,200 poems.
Other projects showcased during Quest 3 include Run Legends, Suilette, Worlds Beyond, and Bushi. Each game contributed a unique experience for users, while delivering unfettered gameplay through Sui's scalability and resilience.
Scaling for games
The gap between the theoretical and practical can be quite large. Sui, however, went under intense development before its Mainnet, and so far proved its ability to handle the kind of heavy transaction load needed to host games. The builders and players tell the story of its resilience and stability.
More importantly for project business models, Sui's gas fees do not spike as use increases. Its design, proven through six months of Mainnet, lets the network scale to handle increased load, without artificially limiting use by increasing prices.