Announcements
Contribute to Sui through SIPs
SIPs provides a transparent process letting the community suggest improvements to the Sui network.

Sui Foundation, in its commitment to open collaboration, launches Sui Improvement Proposals (SIPs), a formal process for the community to contribute to and have ownership in the development of the decentralized future. SIPs offer the community a transparent, structured approach for proposing and discussing changes to Sui. Additionally, SIPs promote collaboration and enable members to share technical input and expertise to improve Sui's functionality, reliability, and usability.
What is a SIP?
SIPs are a formal process that allow community members to identify problems and propose new features, improvements, or major upgrades to the Sui network. SIPs are the primary mechanisms for driving community contribution, collecting technical input, and documenting protocol design decisions.
SIP Process Guidelines
We encourage anyone from the Sui community with a substantive idea to contribute to the development of the network. As such, anybody is able to create a SIP. Before submitting a SIP on GitHub, we strongly recommend discussing SIP ideas with the community in the Developer Forum to collect feedback and validate ideas.
SIPs follow a standard five-step process with a fast track option:
Idea: Succinctly and clearly identify a problem, issue, or improvement, offer it to the community for feedback, and submit it using the SIP template found in the SIP GitHub repository. Defining an issue in a crisp manner lets the Sui community focus on the most critical task, aligning on the problems that are important to solve.
Draft: A member of the SIPs team helps complete the SIP and works with the submitter to finalize the proposal.
Review: Community members assess the SIP and propose solutions with an eye towards feasibility, impact, and functionality.
Last Call: After one week with no further comments, or at a previously set date, the SIP moves to the next step.
Final: The SIP has been accepted by the community and is available for implementation. Note that implementation status of a solution is not tracked in the SIPs process.
Fast Track: This option, included for proposals that have already gained community consensus, bypasses extraneous steps in the process.
The diagram below outlines the general process for SIPs.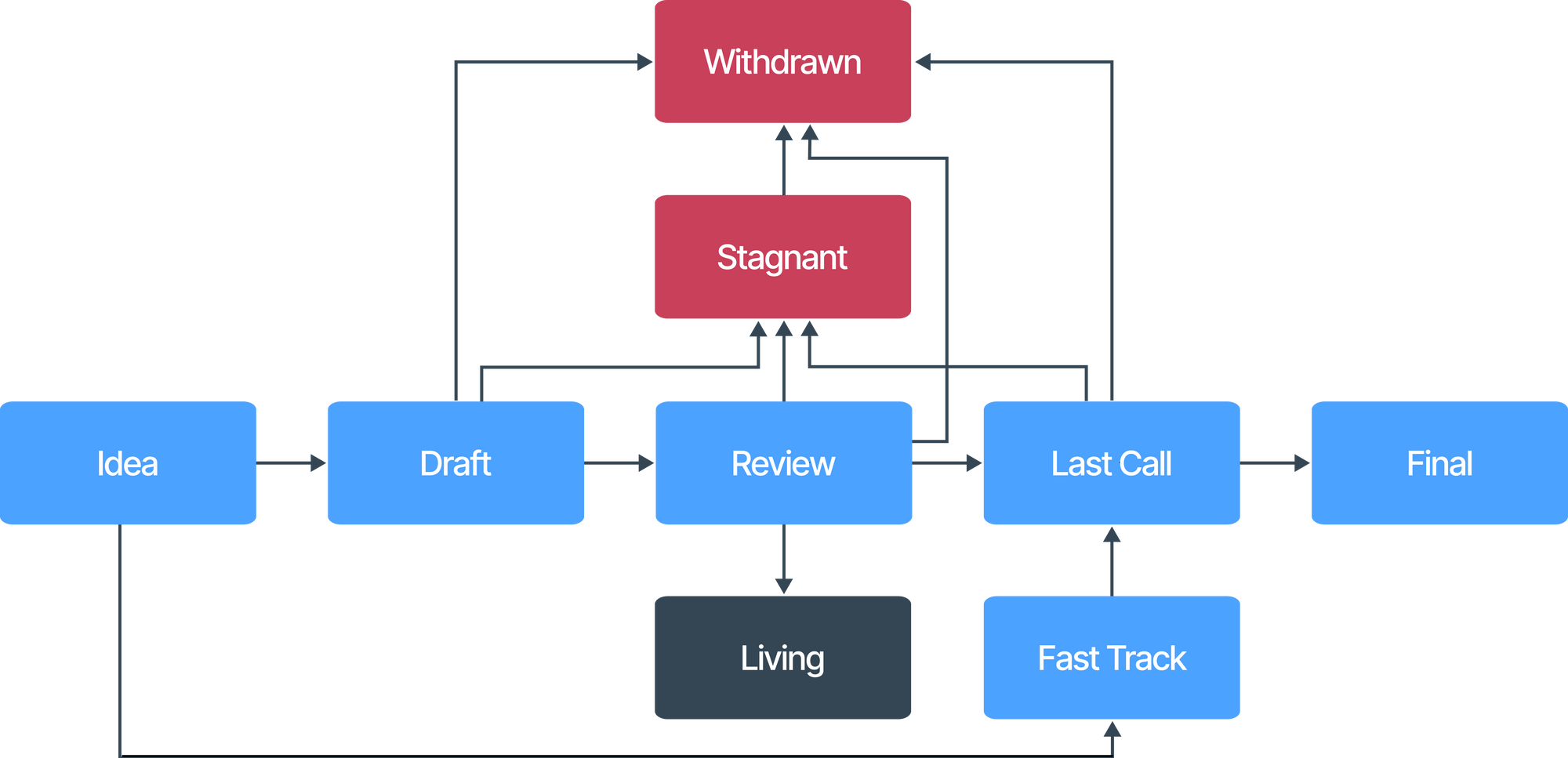 How to get involved
We invite the community to get involved in the SIP process. Share your ideas, provide feedback, and collaborate with others to drive innovation within the Sui network. Join the Sui Developer Forum and GitHub to follow along the latest conversations. If you have any questions or feedback on this process, please let us know in the Developer Forum.