Infrastructure
Announcing Sui Incentivized Testnet
Today, we are ready to announce that Sui's Incentivized Testnet will kick off in August, 2022.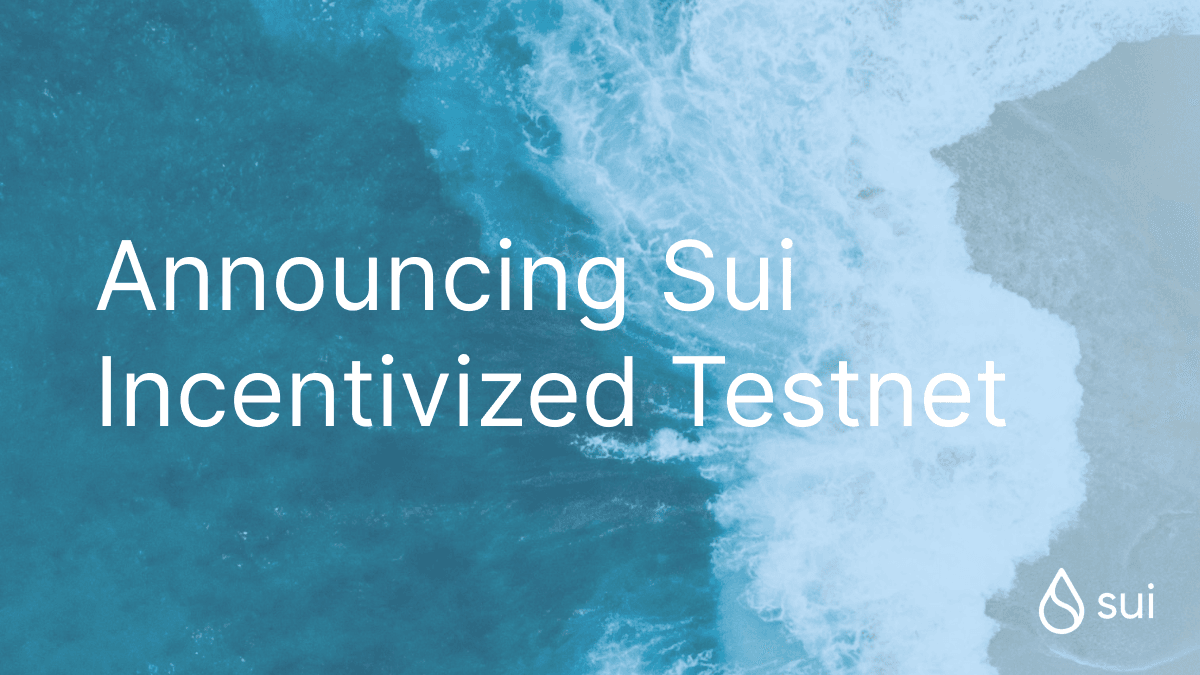 Summary: Sui Testnet is launching this August!
It has been quite a whirlwind. While it was only four months ago that we announced Sui to the world, it feels like several lifetimes have since passed. Many crypto and blockchain community members – us included! – have witnessed repeated ups and downs. Yet, we believe these moments of extreme market volatility represent the best opportunity to hunker down and build the infrastructure to onboard web3's next billion users.
Today, we are ready to announce that Sui's Incentivized Testnet will kick off in August. This stage is the next step towards launching a secure, performant, and decentralized blockchain network.
Our team has been hard at work since our initial announcement. We:
Finalized the design and implementation of Move on Suie, an improvement on the original Move instantiation in Diem optimized for ergonomic and highly parallelizable code
Speaking of our Sui community, we would like to take this opportunity to express our gratitude for your engagement, thoughtfulness, and commitment. We appreciate our partners, investors, DevNet builders, fullnode operators, GitHub contributors, Discord moderators and participants, social media followers, and everyone else who has dedicated their time and energy to Sui – we are fully dependent on you! Our community has repeatedly shown the value and importance of public feedback throughout the early phases of a major undertaking like Sui.
Sui Testnet Roadmap
Sui's testnet will steadily progress from the first multi-entity Sui network toward a decentralized mainnet operated by an evolving set of independent and distributed validators. The testnet will gradually introduce and stress-test the key features, mechanisms required for a decentralized, production-ready Sui network. The testnet aims to validate our designs, test our validator, full node, wallet, and developer toolchains, and build operational experience with a cohesive group of high-quality operators. We will graduate from Testnet to mainnet when we are fully confident in the security and performance of our software, have seen sustained operational excellence from our initial validators, and validate our developer experience via compelling Move-powered applications deployed on testnet.
Sui's Testnet is organized as a series of consecutive "waves" 🌊
Each wave consists of two challenges: a "sink" (an operational challenge) or a "swim" (a Move-based Sui developer challenge).
Here is what we know about the first three waves. We intentionally include more detail on earlier waves to give ourselves the flexibility to augment later waves based on what we learn:
Network
Sink: A multi-entity public Sui network will come together for the first time. This will test our distributed genesis ceremony, validator configuration, operational coordination, and basic network operations.
Swim: The first opportunity for Sui developers to deploy on Testnet. We have big plans for this challenge that we will announce shortly; but for now we will only give one cryptic hint: Capybaras!
Staking
Sink: A Delegated Proof-of-Stake mechanism secures the Sui network through an array of network incentives aligning the interests of all Sui stakeholders. Any entity should be allowed to amass sufficient SUI tokens and participate as a validator in Sui's DPoS mechanism. In this wave, we aim to test both the design and implementation of Sui's key economic mechanisms.
Swim: A challenge focused on building and deploying financial primitives, particularly staking derivatives and DeFi basics.
Updates
Sink: Operating a stable and secure high-throughput network is no picnic. This wave will test our operators as they drill key network operations, such as validator set changes, software updates, and incident responsiveness.
Swim: A challenge connected to our soon-to-be-announced Move workshop during Science of Blockchain week.
Incentives
Sui's Testnet will feature a menu of incentives to encourage and reward meaningful participation during the Testnet waves. These incentives will be available to network operators, users, developers, and other community members according to clear and well-specified guidelines. Our Incentivized Testnet will be a learning experience that will require hard work from both the Mysten Labs team and the Sui community for success. Our goal is to make the most out of the Incentivized Testnet and ensure that Sui is battle-tested and ready for mainnet.
In addition, the Sui Foundation will come live during the early waves of Testnet and become a crucial investment partner for the Sui network. The Sui Foundation's mandate entrusts it with the mission of disseminating Sui education, promoting and bolstering use cases, applications, ancillary infrastructure and services, leading to the network's long-term success. The Sui Foundation will achieve these goals by distributing token grants and providing developer support for users and builders of the Sui network. Stay tuned!
Land ahoy!
This blog post introduces what will now be a series of articles on Sui's Incentivized Testnet to be released on a regular cadence starting this week. In the following weeks, we will be providing additional information related to specific dates, milestones, and requirements related to the Incentivized Testnet waves.
We hope this announcement serves the purpose of further rallying Sui's early contributors, potential validators, developer teams, and other friends of Sui. A call to muster their fleets, unfsrc your sails and be prepared to ship, ship, ship and make Sui deliver on its promises.
As sailors might say, land ahoy! Mainnet is nigh, and Incentivized Testnet is a singular opportunity to harden Sui's protocol, sharpen its code, and get Sui's infrastructure cool and ready to catch those waves. As a community, we will sink unless we all swim together 🏊. Testnet is the last stage before Sui transitions into a fully-owned and fully-led community project. Join us in this endeavor. Be part of Sui today so that Sui can be yours tomorrow.