Announcements
SUMM3R Partners with Sui to Launch NFT Growth Program
Program starts with six weeks dedicated support and access to industry experts

In an effort to find and support high-quality startups with a focus on NFTs, we are proud to announce the launch of a NFT Growth Program, SUMM3R on Sui. A comprehensive program for pre-seed and seed stage companies, the accelerator will provide unparalleled access to the knowledge, connections, and resources necessary to establish themselves as sustainable businesses leveraging Sui's unique NFT technology.
While the initial excitement of NFTs revealed the power of creative control for artists and communities, many startups failed to develop a sustainable business model that could withstand fluctuations in the market. Startups that understand how new formats and improved technology can tap the potential of NFTs are primed to lead the way as investment and interest in the industry accelerates. Sui is uniquely suited to businesses, communities, and collections interested in the promise of highly composable and dynamic NFTs. From gaming to commerce, art to social media, NFTs have the ability to reinvent the way both creators and users interact with apps and brands.
"Sui's object-oriented architecture and groundbreaking network primitives like Sui Kiosk move NFTs beyond mere collectibles and empower developers to find new use cases for these unique digital assets. We are proud to support the SUMM3R NFT program on Sui and truly excited to see the next generation of tools and communities that will come from the builders it incubates." — Adeniyi Abiodun, Co-founder & CPO of Mysten Labs, original contributors to Sui
The program
Project teams incorporating NFTs into their apps and products are encouraged to apply for the program. Of particular interest are those businesses focused on real world applications, AI, DeFi, gaming, and social.
"Summ3r will bring more access and knowledge to Web3 entrepreneurs and help them build sustainable businesses. We are curious to see which startups out there will come up with the most innovative ideas and solutions to industry and real world problems.," said Summ3r CEO J. Lindquest.
The program is curated to give the best possible support to the teams that are accepted. Experts from selected companies like BigBrain Holdings, Delphi Digital, The Sandbox, Hyperspace and more, will participate as mentors and/or hold workshops and panels. At the end of the program, graduating companies will receive a grant from Sui Foundation in the amount of $50,000 per team. They will also have the chance to present to a selected panel of significant Web3 VCs and funds.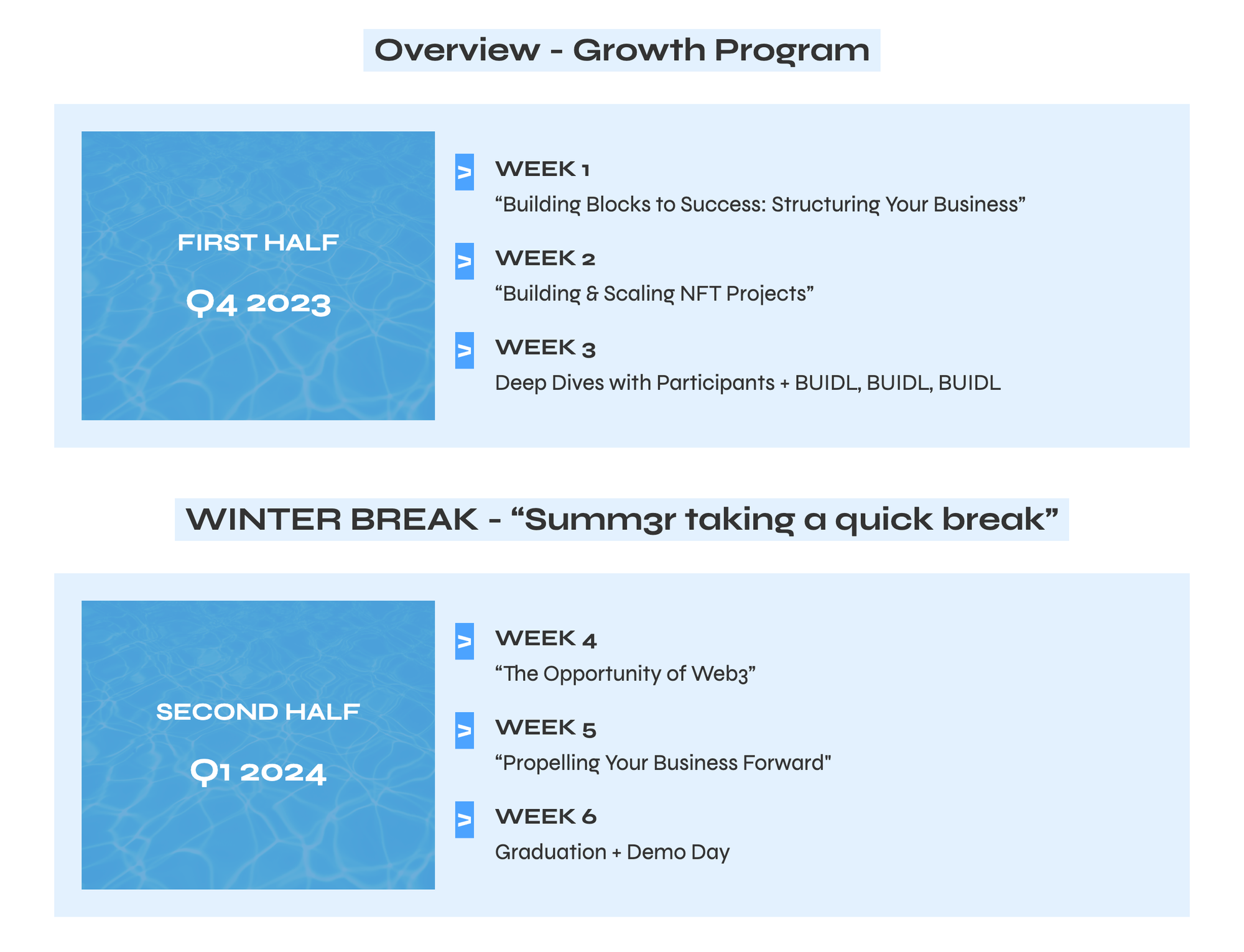 Application criteria
All project team applicants will be measured against the following criteria:
Team background and experience
Vision and roadmap
Business model
Established community size and engagement
Utility
Traction/Market fit
Dynamic NFT use case
zkLogin integration potential
What participants receive
All teams in the program will get:
Six-week dedicated support and access to the SUMM3R team including 20 live sessions, AMAs, and panel discussions with Web3 industry experts and mentors focused on business scaling, strategy, marketing, community engagement, tech development, Sui landscape/dynamic NFTs, partnerships, and fundraising
Opportunity to present to a panel of significant Web3 VCs and funds
Up to $350,000 USD in graduation grants from Sui Foundation (terms apply)
Six months of additional strategic support including access to the SUMM3R community with mentors, founders, investors, and industry thought-leaders and experts
Follow-up investment (based on performance)
In return for the above, teams will offer:
Advisory equity or tokens (fungible/non-fungible)
Option to join future investment rounds including NFT drops
Interested teams should apply today!