Events
Highlights from the Seoul Builder House
Four weeks into Mainnet launch, Sui Builder House in Seoul offered participants a chance to learn how the network is doing, and what features are on the roadmap.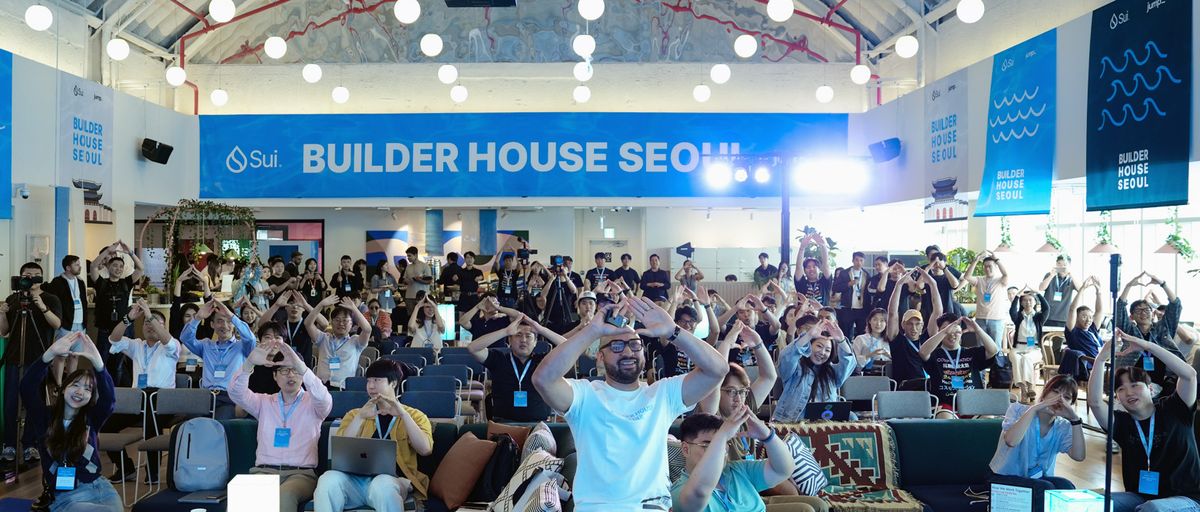 More than 400 people attended the Sui Builder House in Seoul, held from June 3 to 4, learning the latest about the Sui network and the amazing opportunities it offers. As the first Builder House since Mainnet launch, participants got a first hand look at the reality of Sui.
The event, in the Gangnam district, featured 20 presentations. Mysten Labs' CPO Adeniyi Abiodun spoke about Mainnet's early progress and feature roadmap. A concurrent 48 hour hackathon saw builders compete for a prize pool totalling $67,000.
Participants learned about building on Sui during the day and networked in the evenings at sponsored events. An icebreaker over Korean fried chicken at Kyochan helped people make new friends in a comfortable, low-key environment. The opening party at Le Cabaret Dosan offered amazing views over the city and an opportunity for dealmakers to connect and developers to relax.
Sui by the Numbers
Adeniyi's presentation included a look at Sui Mainnet's progress after four weeks. The network boasted 12.5 million transactions and 5.8 million objects and NFTs. Sui's tokenomics model proved its affordability, as the cost to mint one million NFTs came in at $6.6 thousand, compared to $33 million per thousand mints on Ethereum. Marketplaces hold $3.7 million worth of NFTs.
At this early stage builders have launched six games and four DeFi apps, while 13 RPC providers are live, providing the services to enable the over 200 apps currently planning to deploy.
The Roadmap
Adeniyi offered insight into many important new features that will improve liquidity, support DeFi, and enhance user rewards while reducing friction.
Seven developers helped build DeepBook, Sui's native Central Limit Order Book (CLOB), which will enable DeFi apps with a ready-to-use liquidity layer. As a community project, DeepBook complements Sui's open source code. Along with continued improvements and open source transparency, DeepBook's launch will let DeFi builders easily plug in their apps.
As another liquidity development, builders engaged with the Sui Improvement Program (SIP) to help build liquid staking into Sui. This feature will free up even more tokens as people can leverage their staked SUI for other purposes. Liquid staking shows how Sui's community will shape its future.
A new feature, ZK login, will let builders more easily onboard new users to their apps. This login technique, based on Sui's zero knowledge proof technology for guaranteeing secure transactions, lets users log in to Sui wallets with their Google or Twitch credentials. ZK login frees users from having to create new accounts, making for a near seamless adoption experience.
Adeniyi also announced the Action primitive, a substantial new building block for Sui, letting builders offer users rewards based on how they engage with apps on the network. Built in at the API level, the Action primitive makes it possible to tie a reward to a specific action taken in an app. These rewards can be incentives, promotions, discounts, or any other means of recognizing a user's app usage. The Action primitive can also work across apps, so builders can encourage users to try out all their apps, or work in conjunction with other builders.
These new features will enable ground-breaking new functionality and robust liquidity on the Sui network.
Hackathon
84 individuals and 18 teams entered the 48 hour hackathon, occurring concurrently with Seoul Builder House. As the event wound up, 10 entrants were shortlisted and got to present their projects to a panel. Judges selected seven winners, recognizing their projects' innovation and utility.
Here's how the winners placed:
Shall We MOVE?
Secure U&I (Well Done Studio)
Sui Kit
Wildcard winners:
Come to Kyoto
Couldn't make it to Seoul? Don't miss out on our next Builder House, set for Japan's historic city of Kyoto. Along with the best builder experience on Web3, enjoy the city's world recognized collection of temples.